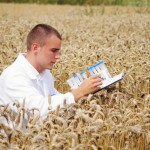 Supporting the Ag Community
FarmShows USA and Midwest Shows believes in giving back to the community.  The Midwest Shows Scholarship Program was formed to support youth entering post-secondary agricultural education programs.  To date, over $80,000 has been awarded.
Currently, two scholarship competitions are conducted each year for Oklahoma high school students.  To participate, you must be a current high school student interested in pursuing a post-secondary education in agricultural sciences.
Preliminary qualification test during OSU Animal Science "Big 3" Field days

DATE:  Wednesday, July 18, 2018
LOCATION:  Animal Science Bldg, Rm. 123

310 North Monroe
Oklahoma State University
Stillwater, OK 74078

TIME:  1:00 – 4:00pm (please allow ~30 minutes to complete the written test)
Recommended test preparation/study:

General cattle handling practices

Vaccination & when to vaccinate

Types of vaccinations

Cattle temp/gestation

Beef Quality Assurance (BQA) Program

Natural/Organic/Grass Fed/All Natural

Cattle implants

Beef Checkoff Program

For more info: Contact Ddee Haynes 580-772-4053 or email

[email protected]

Final competition hosted at the Tulsa Farm Show in December
Open competition – no prequalificiation necessary
Competition hosted at the OKC West Stockyards, El Reno, OK
Final results announced at the Oklahoma City Farm Show in April